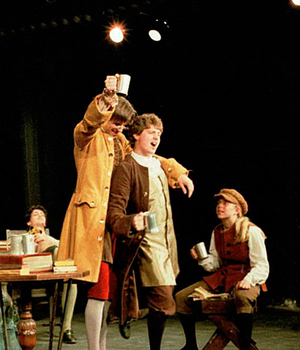 GITTIPIN:

Phebe, dresst like beautie's Queen, 
Jellicoe in faint pea green, 
Sitting all beneath a grot 
Where the little lambkins trot, 

Maidens dancing, loves a-sporting, 
All the country folks a-courting, 
Susan, Johnny, Bet, & Joe 
Lightly tripping on a row. 

Happy people, who can be 
In happiness compard with ye? 
The Pilgrim with his crook & hat 
Sees your happiness compleat.
SCOPPRELL:

Oh, a charming song, indeed, Miss.
SUCTION:

I say, this evening we'll all get drunk. I say dash, an Anthem, an Anthem! [stands, comes down center, toasts the audience]

O the Bat with Leathern wing, 
Winking & blinking, 
Winking & blinking, 
Winking & blinking, 
Like Doctor Johnson.
QUID:

[joins SUCTION] 

"O ho," said Dr. Johnson 
To Scipio Africanus, 
"If you don't own me a Philosopher, 
I'll kick your Roman Anus."