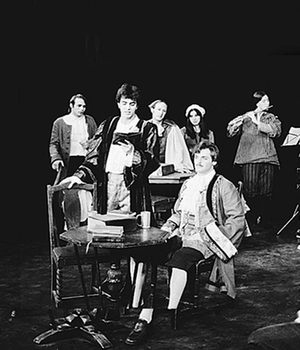 GITTIPIN:

Oh, which reminds me. [goes over to QUID] I was at Mrs. Sicknakens and I was speaking of your abilities but their nasty hearts, poor devils, are eaten up with envy -- they envy you your abilities and all the women envy my abilities my dear; they hate people who are of higher abilities than their nasty filthy selves, but you do outface them and then Strangers will see you have an opinion.
QUID:

Do snap and take me up and I will fall into such a passion that I'll hollow and stamp and frighten all the people there and show them what truth is . . .[interrupted by SIPSOP and SUCTION, who draw his attention to ARADOBO who is falling asleep and tottering on the edge of his stool] 

[long musical interlude; enter OBTUSE ANGLE and SINAGAIN in procession; COLUMN, with book in hand, sings to ARADOBO]
COLUMN:

'Twas on a Holy Thursday, their innocent faces clean, 
The children walking two & two, in red & blue & green, 
Grey-headed beadles walk'd before, with wands as white as snow, 
Till into the high dome of Paul's they like Thames' waters flow. 

O what a multitude they seem'd, these flowers of London town! 
Seated in companies they sit with radiance all their own. 
The hum of multitudes was there, but multitudes of lambs, 
Thousands of little boys & girls raising their innocent hands. 

Now like a mighty wind they raise to heaven the voice of song, 
Or like harmonious thunderings the seats of heaven among. 
Beneath them sit the aged men, wise guardians of the poor; 
Then cherish pity, lest you drive an angel from your door.