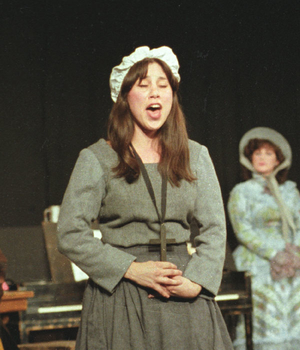 SINAGAIN:

It puts me in mind of my mother's song. 

When the tongues of children are heard on the green, 
And laughing is heard on the hill, 
My heart is at rest within my breast, 
And everything else is still. 

"Then come home, my children, the sun is gone down, 
And the dews of night arise; 
Come, come, leave off play, & let us away 
Till the morning appears in the skies." 

"No, No, let us play, for it is yet day, 
And we cannot go to sleep: 
Besides in the Sky the little birds fly, 
And the meadows are cover'd with Sheep." 

"Well, well, go & play till the light fades away, 
And then go home to bed." 
The little ones leaped, & shouted, & laugh'd, 
And all the hills echoed.

[exits embarrassed; ANGLE sits down; QUID stands and goes to piano]
QUID:

O father father where are you going 
O do not walk so fast 
O speak father speak to your little boy 
Or else I shall be lost. 

The night is was dark and no father was there 
And the child was wet with dew 
The mire was deep and the child did weep 
And away the vapour flew.