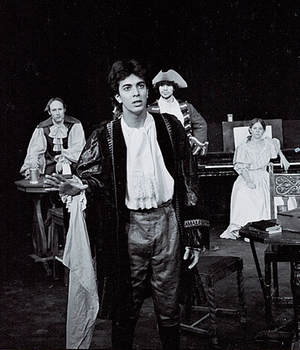 COLUMN:

[to GASS] I don't like his eyes.
GASS:

[to GIMBLET] He's a foolish puppy.
COLUMN:

I have seen his works and they seem to me to the most wretched, paltry, flimsy stuff that ever . . .
GASS:

What? What do you say? Why, why, I wish I could see you write so.
COLUMN:

In my opinion, the author is an errant blockhead.
GASS:

Your reason, your reason? Why, why, I think it very abominable to call a man a blockhead whom you know nothing about.
COLUMN:

Reason? I'll give you an example for your reason. As I was walking along the street I saw a vast number of swallows on the rails of an old Gothic square. They seemed to be going on their way, as Pliny says. As I was looking up, a little "outre" fellow, pulling me by the sleeve, cries: "Pray man, who do they all belong to?" I turned myself about with great contempt. Said I: "Go along you fool." "Fool," said he, "who do you call fool? I only asked you a civil question." I had a great mind to have thrashed the fellow, only he was bigger than I.
GASS:

Indeed, I do not think the man was a fool, for he seems to me to have been desirous of enquiring into the works of nature!
COLUMN:

[clenching his fists, prepares to give a formal answer to the company, but, cut off by the Philosophers' loud laugh, sits down]
OBTUSE ANGLE:

[enters] Well, Gentlemen, what is the cause of strife? [sits at COLUMN'S table]
QUID:

They're only quarreling about Voltaire...
SUCTION:

...and having a bit of fun with him...
SIPSOP:

...while endeavoring to incorporate their souls with their bodies.