Adam Roberts - Landor's Cleanness: A Study of Walter Savage Landor. Review by Bysshe Inigo Coffey
Tuesday, December 29, 2015 - 10:43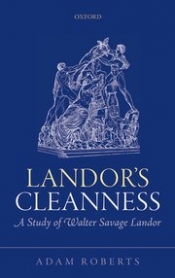 Bysshe Inigo Coffey
Adam Roberts's monograph is the first serious attempt to recuperate Walter Savage Landor's "vanishing reputation" in around fifty years. This is not an easy task.  T. S. Eliot described Landor as one of the early nineteenth century's "very finest poets," but unfortunately, Eliot's lavish judgement failed to inspire any serious critical revaluation of Landor.  Roberts accepts that Landor is not "a poet of Shelleyan or Keatsian brilliance."  His "prodigious" and uneven output—some of it, as Roberts admits, is undeniably boring—ranges from lyric, epic, drama, to the Imaginary Conversations. 
Also there's the Latin to contend with.  For today's student the centrality of Latin to Landor's work might seem a rather formidable obstacle, but Roberts's guidance is light, sound, and inviting.  Furthermore, any would-be reader has to deal with what Donald Davie (in a short essay on the short poems) called the "bewildering insecurity of tone" that often characterizes the lyrics.  Their giddy diction—swinging from the "study" to the "rostrum"—makes it difficult to construe the tone of any given work.  In fact, "bewildering" is an apposite adjective for Landor in toto—a man subject to rages, yet who maintained deep and enduring friendships, a man with a gift for undertaking (and inspiring) litigation, and an author who wrote prolifically, widely, unevenly, and unusually.  As Roberts notes, Landor is "an unfashionable sort of Romantic" in many ways.    
His "verse can strike today's reader as placidly austere," especially for a readership that, "speaking generally," is accustomed to "a greater degree of energy and disruption."  How might such unfashionably "austere" verse appeal to a modern readership?  Roberts's strategy is clever and engaging.  Whilst the surface of the work might appear "placidly austere," Landor's pursuit of stylistic cleanliness and purity—and also what the jacket describes as "political probity"—is in fact compromised by various "contaminants."  A late and seemingly staid Ianthe lyric of 1863, unfolding along the lines of "its Horatian prototype," is shown to engage unexpectedly with an erotically mythic intertexuality.  In a clever reading that takes us from aphros to Aphrodite, we arrive at Cronus's severed and foaming genitalia: "Landor's lyric steps, between lines four and five, from the past into futurity, imagining a time when ocean-foam interacting with Ianthe leads to the generation of men yet unborn." Similarly, Landor's sestina on Godiva offers another moment of eroticism when the voice "dream[s] of thy long hair." For Roberts, "he really does dream about the hair—because by transferring libidinous yearning into a secondary, symbolic order the psyche actually increases the erotic charge, something Landor as poet understood on a deep level."  Indeed, this appeal to the sensual and erotic intrusions into Landor's texts is certainly one way of getting past that stony austerity.     
The recent explosion of sophisticated analyses of poetic form in nineteenth-century and Romantic scholarship (I'm thinking of the recent work of Simon Jarvis, Ross Wilson, and Ewan Jones, among others) suggests Landor as an exciting subject.  One thing, for instance, that becomes immediately clear throughout Roberts's study (although not developed by Roberts) is Landor's considered and radical use of ellipsis points and the hemistich in such works as "On Catullus"—a poem that, Roberts contends, seeks to "ameliorate the 'stains' in a poet of which [sic] [Landor] approves."  Such instances of rupture and breakage suggest that Landor's "placidly austere" verse might, in fact, be the ideal subject for those interested in energies of disruption and disjunction.  Landor's classicism makes the rampant use of the hemistich and ellipses particularly intriguing.
A young Percy Bysshe Shelley, according to Thomas Jefferson Hogg, relished portions of what Roberts describes as "the beautiful and baffling" Gebir (1798).  Roberts also points to Byron's adaptation of "a couplet describing a seashell" in his long poem on the Mutiny on the Bounty, The Island, or Christian and his Comrades (1823), also from Gebir.  In Byron's case the borrowing becomes a stratagem to attack Landor because of his closeness to the "insolent" and "disappointed" Southey.  Roberts charts Landor's place and impact concisely, making it clear how, whilst perhaps "an unfashionable sort of Romantic," Landor is nonetheless pivotal to an understanding of Romanticism.      
Roberts's handling of Landor's texts throughout is assured.  The book, with its neglected subject, its novel route into Landor, and its conversational tone, is unusual, but extremely welcome.  The book's editing, on the other hand, is disappointing; on the dust jacket, the first sentence of the second paragraph lacks its main verb.  Mistakes make their way into the text too, as with the above-quoted "which" for "whom."  This is unfortunate and the lapses stand out all the more in a book about the subversion of stylistic purity and probity.  Roberts, however, has produced a book whose thesis is compelling and brilliantly executed: Landor is well served.