Andrew O. Winckles. Eighteenth-Century Women's Writing and the Methodist Media Revolution: 'Consider the Lord as Ever Present Reader'. Reviewed by Elizabeth Bishop.
Monday, January 4, 2021 - 09:06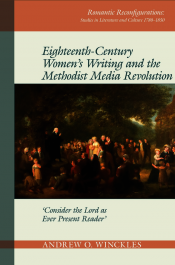 Elizabeth Bishop
As Andrew Winckles notes in his review of Richard Brantley's Transatlantic Trio: Empiricism, Evangelicalism, Romanticism: Essays and Reviews, 1974-2017 for Romantic Circles Reviews & Receptions, the study of religion in British romanticism has often been a fraught endeavor. This has changed in recent years, however, as our field expands its scope while also revisiting familiar figures with a renewed curiosity. My work on Hannah More has been immeasurably edified by scholars who have reconsidered the innumerable facets and entanglements of religion and romanticism such as Winckles, Natasha Duquette, Joanna Wharton, and others.
It bears stating that Winckles's Eighteenth-Century Women's Writing and the Methodist Media Revolution: 'Consider the Lord as Ever Present Reader' is not about Methodist theology. While readers will certainly gain a deeper understanding of Methodist doctrine throughout this volume, Winckles's focus is on the ways in which Methodist media strategies reshaped the British society. For a classic introduction to Anglophone Evangelical theology see David Bebbington's still relevant Evangelicalism in Modern Britain: A History from the 1730s to the 1980s (1989).
Winckles presents an intriguing proposition: the first century of Methodist culture must be recognized as a transformational "media revolution" whose influence was not only among the religious but emanated throughout British society (3). Formative to his thinking is Clifford Siskin and William Warner's revisionist history of the Enlightenment, This is Enlightenment (Chicago UP, 2010), which poses that a variety of innovations usually studied discretely such as the expansion of the postal system, the proliferation of periodicals and the rise of associations should instead be understood as "mediations" that quickly transformed the ways individuals circulated their messages and responded to others (Winckles 3; Siskin and Warner 12-15). Winckles argues that Wesley not only utilized these mediations but was also "intimately involved in pioneering" others (12) such as field preaching (33), religious associations (43) and itinerant preaching (51). While most scholars interpret these features for their theological content, Winckles argues that, alongside his manuscript practices, Wesley catalyzed an ever-widening "feedback loop of orality and print" (31) which attracted believers and "vociferous critics" alike (30). Wesley's mediatic practices made the following composite possible. By 1778 a literate woman in London could receive a letter in the post from her mother who narrates a moving religious experience and invites her to a field sermon (35). This daughter may have a conversion experience and join a women's study group or band (43-46). She furthers her studies at Wesley's Book Room, The Foundry, and reads texts by other Methodist women (12). Perhaps she decides to submit a piece to the Arminian Magazine (as Wesley encouraged many women to do) which is in turn read, circulated, and discussed by others (31, 63). As Winckles demonstrates, Wesley's followers were not passive receptacles but active agents who utilized and propelled the powerful mediatic forces Wesley founded. Winckles discusses the broader discursive trends that made the above composite possible from the movement's founding until 1791 in Chapters One and Two; Chapter Five discusses Methodism's conservative turn after Wesley's death in 1791 which resulted in banning women from preaching, decline in women appearing in Methodist publications and other discursive trends until 1840 (142-145).
In the remaining chapters Winckles traces the influence of Methodist media on specific texts. He makes legible the contemporaneous allusions to Methodism in Richardson's Pamela, charts dangerous enthusiasms in the life-writings of Hester Ann Rogers and Mary Wollstonecraft, and finds a theological poetics in Agnes Bulmer's and Felicia Hemans' late poetry. Winckles's theoretical paradigm is engaged most fully through his discussion of Sarah (Sally) Wesley, poet, essayist and daughter of Charles Wesley. Often dismissed due to the paucity of her print publications and her liminal position as an evangelical poet, Deanne Koretsky and Winckles are the only recent romanticists to discuss her at length (177-8). Winckles argues that instead of assuming that Wesley was unable to appear in print as frequently as she wished, we should recognize what she did accomplish: scribal publication. Winckles' thorough analysis of Wesley's surviving correspondence reveals that she successfully built a network of literary correspondents with whom she circulated her manuscripts (178). He posits that along with the occasional anonymously published essay, Wesley was satisfied with this means of circulation because it afforded her a generous measure of free expression while maintaining her family's positive reputation (194).
This volume's reassessment of Methodist media through manuscript culture, women's life-writing and scribal publication—a vibrant interdisciplinary paradigm—sharpens our understanding of the romantic world, elevates figures who have languished for far too long, and continues to decenter and redefine our understanding of romanticisms in unpredictable and exciting ways.