Claire Connolly, ed., Irish Literature in Transition, 1780-1830. Reviewed by Rebecca Anne Barr
Sunday, October 4, 2020 - 15:04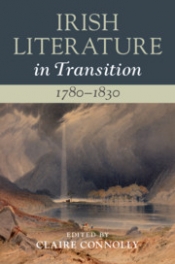 Rebecca Anne Barr
University of Cambridge
Irish writing of the romantic period is often neglected by literary scholars and marginalized by universities keen to entice their post-romantic students with more brand-familiar fare. As a result, pre-1900 works are frequently dismissed as being of purely historical interest. Claire Connolly's Irish Literature in Transition, 1780-1830 is a riposte to such views. This period above all others, Connolly argues, is 'the crucible of Irish writing in English' (9). As Pat Coughlan has noted, Connolly's book is 'a gauntlet thrown down' to political histories of Irish literature, whose approaches have long dominated Irish Studies. By prioritizing the literary, the volume challenges the historicist prejudice that literature in Ireland is merely an amanuensis of political and social change. In contrast, the works analyzed here are internationally attuned, critically self-aware, and responsive to aesthetic developments and cultural debate generated both on and beyond the island itself. In the variety of critical methodologies deployed by the contributors, Connolly has assembled a manifesto for the intellectual dividends available to scholars working outside post-colonial parameters. Irish Literature in Transition, 1780-1830 argues – successfully – for the urgent incorporation of Irish writing into the study of networked and transnational romanticisms, and for the literary interest of Irish writings beyond political history.
Connolly deliberately resists the conventional demarcations of Irish historiography, anglophone literary scholarship, and the categories of the influential Field Day Anthology (1999-2000). This frees her to focus on primarily literary concerns. Thus, there is no division of pre- and post- Irish Rebellion: the 1801 Act of Union is not a conceptual Rubicon; nor does the volume follow dates which loom large in English literary timelines. 1798 signifies differently depending where you're reading from. This is periodization as process. As writers were 'making new maps… to chart routes between and across Enlightenment, antiquarian, and romantic modes' (11), the scholarly reader is enabled to 'plot new co-ordinates and reimagine origins' (27). This enlarged and galvanized field allows a complex picture of Irish romantic writings to emerge. Sections on 'Origins', 'Transitions', and Reputations' provide foundational ideas of language, translation, and context, while illuminating cultural volatility and transitions, but without imposing teleology or uniformity. Canonical authors such as Maria Edgeworth, Lady Morgan, and Thomas Moore are given trenchant assessments (James Chandler's essay on Edgeworth and realism should become required reading for anyone studying or teaching romantic-era novels). But attention is also focussed on less familiar figures. There is an outstanding chapter on Mary Tighe, a significant influence on romantic poetry who occupies a 'liminal…space' (175) between manuscript and print culture; Charles Maturin, the gothic novelist, receives a suitably stylish interpretation of his Irish eloquence and imagination. Willa Murphy brings theoretical acumen to the violent fiction of John and Michael Banim whose 'violently split characters' compound 'self-assertions and self-cancellation' and suggest a 'lack of essence' (283) that challenges notions of core Irish identity.
The final section, 'Futures', gives substantial attention to archipelagic, transatlantic, and imperial exchanges and their potential to open up new directions in the study of romantic-period writing. Joep Leerssen uses data from the synoptic-European Encyclopaedia of Romantic Nationalism in Europe (https://ernie.uva.nl/) to argue that the characteristics of developments in Irish writing are most meaningful within a larger European context. When situated within a large-scale study of 'romanticism' Irish writing does not appear as a para-colonial exception, but in line with parts of Europe which shared similar status as imperial peripheries. Noting that 'Romanticism was everywhere a minority concern' (349), Leerssen's chapter reminds us of the need to scrutinize methodological preoccupations and to situate them within a wider cultural framework.
Fiona Stafford's chapter on 'The Literary Legacies of Irish Romanticism' does just that by examining the afterlives of romantic writing in Ireland in an accomplished chronological comparison. She traces how Heaney's 'troubled' pleasure in Wordsworth's poetry is politically fraught but imaginatively productive, while John Clare's ecological vernacular inspires Heaney, Paulin, and Longley by bypassing high canonicity and affirming the richness of regional idiom. Stafford's grasp of the dynamics of literary posterity is deft, but her picture is overwhelmingly male: the twentieth-century landscape she delivers is utterly divested of women authors – only male romantic poets seem sufficiently 'seminal' to produce offspring. But Irish women's writing works with and transforms the materials of romanticism: in Belinda McKeon's Solace (2011), for example, whose protagonist's study of Maria Edgeworth frames the novel's exploration of loss and the succour of family; in Sinéad Morrissey's '1801', written in Dorothy Wordsworth's voice; in the luminous ordinary of Eavan Boland's poetry, which has percolated the early Romantics to render Dublin suburban domesticity 'deep in Silence & Love'. To represent that legacy as an exclusively masculine affair does a disservice both to romantic women writers and to modern Irish literature.
Current attempts to except Irish culture from its participation in white supremacy via the 'Irish Slaves' myth indicate the academy's acute need to reckon with Ireland's involvement in slavery, plantation culture, and the commercial profits of empire. Joseph Rezek's chapter on the influence of the transatlantic slave trade on Irish literary culture is thus a salutary inclusion. Rezek demonstrates how radical politicians framing the 'cause of the Irish and the African as powerfully analogous' (383) often contributed to an affirmation of racial hierarchies. Moving beyond Edgeworth's racist fantasy of 'enlightened' plantation owning, to the abolitionist verse of Quakers Mary Birkett and Mary Leadbeater, Rezek emphasizes the variety of Irish attitudes to slavery. As Sonja Lawrenson's excellent chapter on Minerva Press fiction shows, Irish fiction was replete in morally problematic transnational imaginings. If Irish agency might be limited at home, the global project of empire offered the imaginative prospect of a 'new imperial identity and authority' (362) that could be turned to their advantage. Likewise, Rezek reads the trans-Caribbean gothic of Sarah Isdell's The Vale of Louisiana (1809) as symptomatic of Irish writing's consciousness of slavery. Transnational in setting, and propelled by anxieties of immigration, Isdell's novel is certainly not abolitionist in its sentiments. But its hemispheric reach confirms the necessity of reading beyond the nation, and beyond comforting myths of Ireland's exemption from systemic racism.
Irish Literature in Transition, 1780-1830 thus brings Irish writing into our newly-troubled transnational romantic period. In its scope, ambition, and scholarliness, the volume signals a reinvigoration of the critical field. It not only raises the bar for scholarly work on Irish material, but also intervenes to re-orient criticism on anglophone literature in the period more generally. It is an invaluable collection: essential for undergraduate students and researchers, crucial for romanticists wishing to equip themselves with a fresh map of the land. Transition is opportunity, innovation, and critical necessity. Connolly has assembled and modelled an innovative range of essays which will set future research into motion.