Devoney Looser - The Making of Jane Austen. Reviewed by Meaghan Dodson
Friday, January 19, 2018 - 13:30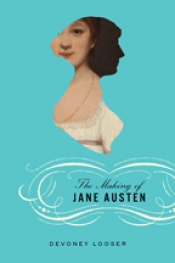 Meaghan Dodson
Fordham University
"She was not born, but rather became, Jane Austen." And so Devoney Looser begins, analyzing the myriad ways Austen's persona has been portrayed, studied, and interpreted over the past two hundred years. Looser's work is the latest entry in a veritable modern genre-what we might call "Austen-cult scholarship"-which includes, among many other works, Deidre Lynch's Janeites: Austen's Disciples and Devotees (2000), Claudia L. Johnson's Austen's Cults and Cultures (2012), and Janine Barchas's Matters of Fact in Austen: History, Location, and Celebrity (2013). The Making of Jane Austen, however, stands apart as an engaging, even gripping account of both the newly discovered and under-appreciated aspects of Austen's legacy. Looser's generative curiosity moves among a catalogue of fresh topics: Who was Austen's first illustrator? Why is she studied by paranormal psychologists? What inspired Colin Firth's infamous wet-white-shirt scene? Comfortable in this heterogeneous terrain (her bio, after all, lists her as both a Professor of English and a roller derbyist known as "Stone Cold Jane Austen"), Looser guides readers through a broad analysis of how representations of Austen-high-brow, low-brow, and everything in between-have, perhaps surprisingly, more often harmonized than contradicted.
Looser begins by looking at Austen's illustrated history, identifying Ferdinand Pickering as the artist responsible for the first English-edition illustrations, which influenced generations of readers to (mis)perceive Austen as a Victorian author. Moving from representations in visual art, Looser then considers how Austen has been represented on stage, focusing on amateur school productions, queer performance plays, and of course the film industry's decision to "sex up" Mr. Darcy. Looser's third site in her story of the "making" of Jane Austen is nineteenth- and twentieth-century politics, where Austen was (often simultaneously) co-opted by everyone from conservative men's club members to radical feminist marchers. And finally, Looser concludes with a turn to what for many readers might be more familiar ground: Austen's critical history, albeit a history that extends well before R.W. Chapman's purportedly "groundbreaking" textual criticism.
These four areas of investigation, what Looser economically describes as Austen "illustrated, dramatized, politicized, and schooled," not only structure her chapters, but also allow readers to trace the movement of Austen's legacy within and without academe. In this regard, surely the greatest strength of The Making of Jane Austen is the originality of Looser's endeavor: tirelessly sifting through two centuries and more of manuscripts, advertisements, play scripts, newspaper clippings, and so on, she brings to light a constellation of fascinating cultural actors-with Rosina Filippi (Austen's first dramatist) and George Pellew (author of the first Austen dissertation) appearing as two particularly compelling cases-and she argues for their role as makers of a cultural icon. Looser reaches across disciplines to argue her case, and especially engaging are her art-historical analyses, in which she variously contrasts Pickering's gothic depictions with Thomson's whimsical illustrations, or studies the effects that a particular National Lampoon "cupcake" advertisement had on college students during the 1970s. 
In a field of investigation this expansive, there are certain to be a few points that readers might wish had been further developed. When discussing why many people believed Austen "not only shouldn't but couldn't" be staged, for instance, Looser helpfully unpacks the "couldn'ts" but curiously leaves us to puzzle over the "shouldn'ts." So too Looser might have said more about the film adaptations of Austen. Stopping at Firth's portrayal of Mr. Darcy in 1995, Looser leaves unmentioned the wave of adaptations that came after (and were inspired by) the BBC mini-series, as well as the more modern revisions such as Clueless (1995) and Bridget Jones' Diary (2001), which by now have become cultural icons in their own right. 
When Looser writes that her heroine was not born but became Jane Austen, she has her eye on the shaping influences that operate beyond and below highbrow cultural traditions. We have had no shortage of testimonies to Austen's literary genius, and so it is to Looser's credit that she reveals the no-less significant history of Austen's status in popular culture. In doing so, she offers readers an important admonition: she is not worried about us "ruining" Austen through a surfeit of Etsy products or Pride and Prejudice and Zombies adaptations, but rather through a history that overlooks, or even omits, all that is popular and commercial in Austen's legacy. In suggesting that Austen is, and has always been, beloved by all types of readers, Looser matches her thesis with her rhetoric: The Making of Jane Austen is both an essential, rigorously researched text for serious Austen scholars and an irresistibly lively reading experience for even the most newly initiated of Janeites.