Mary Shelley - Mathilda, edited by Michelle Faubert. Reviewed by Anna Mercer
Tuesday, January 23, 2018 - 13:36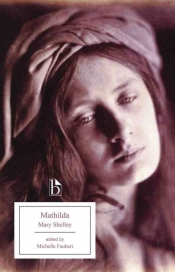 Anna Mercer
Keats House
"I offer the present edition as an effort to release Shelley's Mathilda from its readerly purgatory, for it deserves a wider audience than it presently enjoys" (33): so Michelle Faubert closes her introduction to the Broadview edition of Mary Wollstonecraft Shelley's novella Mathilda. The editor writes with a clear sense of hope that the text may find new readers thanks to this publication. I share her optimism.
The Broadview editions should be praised in general: they provide introductions that often represent a particular critical moment and which therefore reflect the scholarly 'mood' at the time when that edition first appeared. Along with this important framing material they include carefully selected appendices, usually excerpts of related texts. They are indispensable to scholars of Romanticism; we need Broadview editions of all of MWS's novels, and as I will explain in this review, Faubert's superb work confirms this. We now wait eagerly for Falkner and The Fortunes of Perkin Warbeck.
MWS's Mathilda, her second extended prose work after Frankenstein, was written in 1819 when she was living in Italy with Percy Bysshe Shelley. As many people will already know, it was not published until 1959, 140 years later, when Elizabeth Nitchie transcribed the manuscript. MWS's father William Godwin was its first suppressor, deliberately withholding the manuscript from the press and even refusing to return it to his daughter. What followed is the "troubled publication and critical history" of a "powerfully challenging novella" (9), to this day often buried and forgotten in the Romantic canon.
Faubert begins with this background information and then, necessarily, tackles the issue of biographical readings head-on. In the present climate, where the latest film depicting MWS as a writer boasts the headline "The Life that Inspired Frankenstein" and is fraught with conjecture and error, it is crucial to introduce this novella as a work that has been damaged by a reliance on biographical readings.
I will avoid spending time recounting the narrative of Mathilda here. What is important is that Faubert devotes time, for example, to MWS's responses to Godwin's philosophical writings in the novella, and thus delivers proof that the book "reveals itself as far more than [MWS's] textually recorded therapy session" (27). The outdated interpretation of MWS as Mathilda, Godwin as Mathilda's father, and P B Shelley as Woodville is reduced to what it should be: an isolated and over-mythologised understanding that has haunted the text's reception since it was first published in the mid-twentieth century.
It is surely no accident that the great Betty T. Bennett is cited within the first three pages of the introduction. Faubert quotes:
Neither P B Shelley nor [Leigh] Hunt has been the object of such narrow, biographical interpretation. The assumption that a female writer must personally experience a subject to write about it suggests that Mary Shelley was also a murderer or a warrior or lived in America. (11)
Faubert acknowledges how "readers have often mined Shelley's work for biographical evidence" (11) but carefully posits that this method is antiquated and limited. As Graham Allen (also cited) has argued, such "patriarchal logic . . . collapses women's writing into the 'person' presumed to stand uncomplicatedly behind that writing" (11).
Refreshingly, the introduction moves on to give us further intertextual readings that show MWS's talent as a writer, her incredible knowledge and reading (21), and her important literary relationships: "[MWS] was not, she well knew, an island. No woman is" (12). If she did take inspiration from her own lived experience to some extent (which of course all writers do, male and female), the result is now worth reading because of her ability to transform key subjects – or "universal concerns" (12) – into literature. Faubert's work is important as it reminds us that MWS's novels can be read as a comment on society rather than personal emotional outpourings. Specifically, Faubert cites Pamela Clemit to chime with this in a discussion on the depiction of mourning. Viewing MWS's fiction as naked portrayals of her personal grief is "to overlook her self-consciousness as a literary artist" (16). The repeated references to the issues surrounding biographical readings are not tiresome, and despite my focus on it in this review, actually not didactic; for example, Faubert cites Bennett's contrary argument that MWS was showing personal grief and upset later in the essay when considering death and suicide (25). Overall, the author encourages the reader to engage in the debate.
Similarly, Faubert is interested in the characters of Mathilda as more complex than their most transparent critical interpretations. She discusses Woodville as a representative for more than just the ideals of P. B. Shelley – in the suicide debate (considered here at length), he is "a mouthpiece for those who would argue against the right to die" (29). Elsewhere, the introduction has a detailed discussion on the concept of purgatory. The novella is a "purgatorial text" (12) in its fascination with confession without redemption or purification.
Faubert considers psychoanalytical interpretations ("the Madonna-whore complex"), and also celebrates MWS as a feminist author. Such readings were aspects of this text by MWS in particular that I had not encountered previously, and enjoyed reading about (17). MWS's feminism is often neglected, perhaps because her female characters are not typically 'strong': Mathilda being the perfect example. They are not always "likeable," and whether MWS 'liked' her creation Mathilda is a fascinating matter in itself (see the excellent essay by Charles E. Robinson, "Mathilda as Dramatic Actress"). Other women writers have been consistently rejected as 'anti-feminist' because of their depiction of self-pitying, dependent and helpless female protagonists—for example Jean Rhys. I would argue that this does not mean the text cannot also carry a feminist message. Faubert's introduction revived my own determination to write about this at length and I am grateful for that.
Elsewhere in Faubert's edition, there are some disappointments, but not many. I think that the Chronology is slightly short, as collections of P. B. Shelley's poems that include as much detail and astute editorial work as Broadview editions (for example, The Longman Shelley, ed. Everest, Rossington, Donovan) usually appear with a more comprehensive timeline. The excerpts in "Appendix A" relate to Faubert's clear interest in the suicide debate and that may not be appealing to all readers. The presence of a transcript of MWS's manuscript in "Appendix B" is invaluable – and the references to, and extracts from, Frankenstein do not drown MWS's wider career and Mathilda itself. Overall a superb edition that I hope will indeed breathe new life into the oft-forgotten Mathilda and her haunting tale.