Reading and Raiding: On the Case of Wordsworth. Review by G. Kim Blank
Friday, February 19, 2016 - 11:57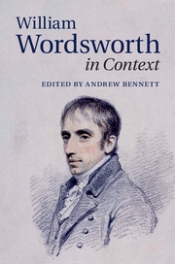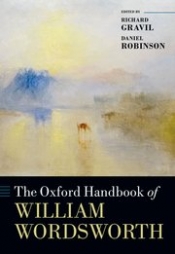 Reviews of
Andrew Bennett, William Wordsworth in Context
Richard Gravil and Daniel Robinson, The Oxford Handbook of William Wordsworth
G. Kim Blank
University of Victoria
William Wordsworth (is there a better name for an English poet?) has not gone away. Not that at least a few of his own contemporaries might have wished that his own words—"the good die first," from his yawning 1814 Excursion—might be turned upon him. They then might have been left with a less unresolved, lingering figure over whom to brood. Wordsworth, instead, trundled more than a decade into the Victorian era.
Born in 1770, Wordsworth did seem to be (or become) something of a pretentious fuddy-duddy, and he did so before the age of fifty, with more than thirty years still on his clock, and with his best work about a decade behind him. John Keats, ever studious of his great, elder contemporary while he courses his own rapid development, and after meeting Wordsworth a few times over the winter of 1817-1818, observed that Wordsworth lived in a "Shell," protected, as it were, by his devoted sister and wife. After Wordsworth spends about a month or so in London during this period, some were happy to see the back of him. At that moment at least, we picture him at dinner parties, flanked by devoted sister and wife, apparently not to be interrupted. Later in 1818, Keats seeks out Wordsworth in the Lake District to pay him respects, but Wordsworth is not home; he is, as Keats discovers and records, "canvassing for the Lowthers." Within Keats's liberal-reformist London circle, the Tory aristo Lowther (Earl of Lonsdale) represents the enemy. Keats's response: "Sad—sad—sad."
In the end, Keats declares he likes half of Wordsworth, and he recognizes that exploring Wordsworth's style and accomplishment significantly helps him to determine his own poetic direction. Like his immediate contemporary, implicit competitor, and acquaintance Percy Shelley, Keats experiences various degrees of ambivalence in his attempts to negotiate the poetry, character, and cultural placement of Wordsworth. Shelley handles it by symbolically killing off the older poet in a pretty good sonnet, "To Wordsworth": with some pointed irony he expresses his loss of Wordsworth, once the poet of "truth and liberty," in Wordsworthian terms. Lord Byron has less trouble dismissing Wordsworth. The political apostasy that bothers Keats and Shelley inspires some Byronic verbal venom beyond the famous "Turdsworth" sneer that Byron uses on at least half a dozen occasions: in a note to the suppressed Dedication to Don Juan, Bryon envisions Wordsworth "at Lord Lonsdale's [Lowther's] table, where this poetical charlatan and political parasite licks up the crumbs with a hardened alacrity; the converted Jacobin having long subsided in the clownish sycophant of the worst prejudices of the aristocracy."  
The spirit of these charges, in fact, carry forward for more that just a narrow historical moment. By 1845, two years after Wordsworth becomes Poet Laureate and is still actively recycling, reorganizing, and tinkering with his poetry, he is damned by Robert Browning as the orthodox "lost leader" in his poem of that name.
But before the end of the nineteenth century, as those who first felt the inspirational pull of the French Revolution pass into history and Wordsworth becomes a cultural icon—a literal cottage industry—these charges of political defector begin to subside and slide toward a picture of stoic congeniality. However, another indictment—condemnation of Wordsworth's egotistical poetic style—stuck around. Publically noted at least as early as 1807 in response to the publication of his Poems in Two Volumes, it is most deliberately set forward by William Hazlitt's three-part 1814 review of The Excursion: "He [Wordsworth] sees all things in himself," is how Hazlitt put it—"An intense intellectual egotism swallows up every thing." Wordsworth, touchy even when small criticism is tempered with significant praise, never fully forgave Hazlitt, his former friend. In truth, interest in the self-secluded, self-sufficient, and self-experiencing Wordsworth never really subsides, and the babel of Wordsworth's critical reception even today is often propped by questions about the form, range, and context of Wordsworth's complex poetic subjectivity. But of course it is our little Johnny Keats of Cockney pill-box fame who, though privately, comes up with the phrase that has stuck to our conception of Wordsworth: in an attempt to formulate and forge his own "camelion" poetical character, Keats does so in light of and against "the wordsworthian or egotistical sublime." The phrasing is just too good—and too right.
So yes, it is a good thing that Wordsworth has not gone away. Trolling the literary margins for new material to displace the old canon has not netted any fish even close to Wordsworth's magnitude. Wordsworth has also been helped by the fact that most credible poets anno wordsworth have kept at least one allusive and studious eye on his innovative capabilities. The personally channeled lyric impulse caught on as a pervasive cultural form without much to-do, much in the same way Jane Austen's use of free indirect speech quietly changed the narrative style of subsequent fiction. Wordsworth, too, continues to have a place in the classroom. Much of this best work should forever remain teachable from middle school onwards—so long, that is, as those passive-aggressive relativistic types (a.k.a. the curriculum police) don't completely censure dead, white, Eurocentric, male greatness; thankfully, preachy desires to trump significance with inclusion haven't yet completed the mission to dumb-down just about everything. In short, Wordsworth's achievement remains a singular moment of poetic eminence as the original modern voice of democratized self-expression. So too does Wordsworth remain with us in associations, journals, monographs, editions, anthologies, and conferences—and now, in handbooks. Not that there haven't been others, but (to echo Byron) every age brings forth a new one. Or in this case, two.
Under Oxbridge creds, the two books in question here—William Wordsworth in Context, edited by Andrew Bennett, and the more hefty The Oxford Handbook of William Wordsworth (just short of 900 pages) edited by Richard Gravil and Daniel Robinson—bring All Things Wordsworth to us in the general spirit of placing Wordsworth within two scenes: first, within Wordsworth's own time and place of writing; and second, within our contemporary scene of criticism and theory. The former can be explored infinitely to include both the larger sweep of an ever-complicated history as well as the minutia of the material world, including the thingness of the thing; the latter scene is equally infinite though more shifting (or shifty, depending on your convictions) as litcrit wanders further and further afield for new lenses and new vocabularies. (These are what, with some optimism, we call "new directions.") Luckily, these two volumes are populated with a terrific range of Wordsworth scholars who mainly avoid too much of the trivial and the overly trendy.
And so between these two books (with forty-seven essays in Handbook and thirty-five in Context, with seven contributors appearing in both), just about everything you'd want to know about Wordsworth today that you were afraid to ask is profitably, clearly rendered—admittedly, to be raided more than read in toto. Given, however, that raiding is how these books will be used, one minor downfall of the Context volume is that it lacks a useful subject index, instead exclusively preferring proper names. If a raiding reader wants to find out something about Wordsworth's intersection with, say, empiricism, epic, or memory, the index in Context will not help. The Handbook has the advantage of index entries for some such topics, though it too has its holes. Having said this, Context usefully organizes itself around short chapter titles that signal specific topics, like "London" (Christopher Stokes),  "Prose" (Tim Milnes), "Education" (Frances Ferguson), "War" (Simon Bainbridge), and "Europe" (Michael Ferber). Again, this helps, but cross-referencing via an index can be useful; very helpful is the "Further Reading" that has a short selection for each of the volume's main topics. The only significant omission in the Context volume is a dedicated essay on Wordsworth and science. By comparison, the Handbook has a convivial chapter by Marilyn Gaull titled "Wordsworth and Science," which points out that Wordsworth's science was "shaped by experience, by observation, by his Lake District environment, his community of friends, and a flourishing popular and public scientific culture" (601). Gaull's chapter would in fact fit nicely in the Context volume, since it situates the topic more than analyzing it. Oddly, in this case, the Handbook index lets us down a little by not having an entry for science to find out where else the subject is discussed, though it has, for example, longer entries for nature and human nature. But this is nitpicking. Perhaps judging an index by the one in M. H. Abrams's Natural Supernaturalism (where "selfhood" gets sixteen listings) is not fair.   
Which sort of brings us to the question that hangs in the air: For whom are these books intended? Teachers or professors? Grads or undergrads? Scholars or casual readers?
Well, probably all of the above, though any casual reader would have to be a fairly serious casual reader. There is, as they say, something for everyone. So if, for example, you wanted a meticulous account that sorts out the messy compositional details of Wordsworth's protracted but unfinishable Recluse project, you can find Richard Gravil's very helpful one-page table in the Handbook (347), surrounded by his chapter that critically narrates Wordsworth's piecemeal attempts to write a poem on "whatever I find most interesting in Nature, Man and Society." And then in the Context volume we can find Sally Bushell's more general chapter entitled "Composition and revision." It slightly overlaps with Gravil's history of The Recluse in that it takes up Wordsworth's writing process and mentions The Prelude, but its mission is to promote the usefulness of examining Wordsworth's revisions. The evidence to make this case is necessarily limited, but it does tell us something we should know on our way to plumbing Wordsworth's shifting depths. And if you wanted to know if there are animals in Wordsworth, look no further: there are. As Kurt Fosso tells us in the "Animals" chapter in Context, Wordsworth's animal "depictions" are "diverse" (245); however, when one hears that Wordsworth's wonderfully haunting and enigmatic "There was a boy" raises questions about the status of "interspecies connection," there might be a little headscratching. In the end, no doubt libraries will be the main purchasers of the books, since the total price for both comes to about $250—not including tax.
The difficulty for the reviewer, of course, is that summing up eighty-two essays is impossible. But it's all there: the life, the times, the poetry, the poetics, the politics, the contexts, the networks, the reception, the legacy—and the scholarship. As such, almost all of the leading Wordsworth heads of our day are there and have found new things to say or old things to say better. Reading anything by Nicholas Roe (Wordsworth's early life), Susan J. Wolfson (Tintern Abbey), Pamela Woof (the later poetry), Duncan Wu (sensibility), Judith W. Page (gender and sexuality), and Peter J. Manning (later narrative poems) in Handbook, as well Stephen Gill (biography), Paul H. Fry (elegy), James Chandler (sensibility, sympathy, sentiment), Philip Shaw (the sublime), and Richard Cronin (critical reception) in Context—just to mention a very few—is going to be a treat, or rather, feast.
Wordsworth, fuddy-duddy or not, no longer needs the protection of wife and sister. These two notable volumes represent countless hours of study, thinking, and writing that will preserve and propel the most consequential poet of the last two hundred years well into the twenty-first century.