Sophie Laniel-Musitelli and Thomas Constantinesco, eds. - Romanticism and Philosophy: Thinking with Literature. Review by Bysshe Inigo Coffey
Thursday, October 20, 2016 - 13:13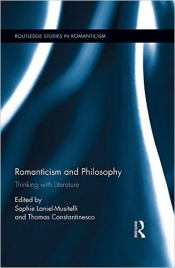 Bysshe Inigo Coffey
PhD Student at University of Exeter
It is not only ideas that have their histories with phalanxes of detractors and champions, but, as Ewan James Jones has recently put it, "verse form too contains a complex history of allegiance and contestation." Consider the eighteenth century's riotous debates on rhyme with the Reformation still in the air, or William Keach's contention that the so-called Cockney school's return to the (not-so-closed) couplet was necessary after Wordsworth became just too synonymous with blank verse for a renovated liberalism to use it. The political, religious, and historical assertions of poetic form are often obvious, but might not poetry offer its own kind of thinking too?                    
The editors of Romanticism and Philosophy: Thinking with Literature, Sophie Laniel-Musitelli and Thomas Constantinesco, explain that the book is predominately concerned with what Simon Jarvis calls "verse-thinking"—namely, "the workings of thought within poetic form." Originating from "an international conference on "Romanticism and Philosophy" held in Lille in September 2012," the collection brings together "a selection of revised papers from the conference, as well as specially commissioned essays." Grouped around four thematic sections, Romantic Confrontations, The Poetics of Thought, Romantic Selves, and Transatlantic Romanticism; it also examines the philosophical significance of essay writing, fiction, and the performing arts in the "Romantic age."
The collection is truly compendious. At one moment we find Mark Sandy tracking Wordsworth's haunted poetic landscapes, populated by the ghosts of Milton, Spenser, and Wordsworth himself where the latter develops an intimate poetics of time, and, at another, Laura Quinney identifies how both Blake and Kierkegaard "treat despair as endemic to the experience of subjectivity." Turning to American Romanticism, Susan L. Dunston brilliantly teases out Emerson's conception of "genius" and the dialectic of self, originality and quotation. Everywhere you look there is something tempting.    
However, I want to consider three essays that stand out in particular. Christoph Bode's impish and sparkling essay, "Absolut Jena: A Second Look at Lacoue-Labarthe's and Nancy's Representation of the Literary Theory of Frühromantik," approaches L'ansolu littéraire (1978) to argue that its authors see Romanticism as originating at a moment of "representative crisis"—this critical moment allows philosophy to subsume literature with literary texts conceived as self-consciously producing their own theories: "this kind of literature and this kind of criticism are co-emergent, because the criticism is not extraneous to the text, it is intrinsic to it." The opposite is true too with literature murdering philosophy for supremacy. Valences and middles of this kind dot the collection, hinting at the type of thinking verse does best.
In "Thinking without Being and Acts of Poetry in Shelley," Arkady Plotnitsky puts Shelley's "Mont Blanc" in conversation with Alain Badiou's Platonism. Plotnitsky's readings are clear, careful, and convincing. He asserts, however, that "Shelley's poetry had been associated with Platonism for over a century after his death, mostly with more naïve forms of Platonism, from which the last half a century or so of Shelleyan scholarship has tried to liberate Shelley." It is unfortunate, then, that Plotnitsky does not elaborate on this. I would contend that Shelleyans have tended to shy away from, not "liberate," Shelley's relation to Plato. Indeed, since Notopoulos's The Platonism of Shelley: A Study of Platonism and the Poetic Mind (1949), nothing as ambitious or exacting has been attempted.   
A highlight of the collection is Simon Jarvis's "Prolegomenon to the Remnants: Shelley's 'Triumph of Life.'" The essay offers a striking intervention in the analysis of the fragment and continues the theme of tense middles. Since John Todhunter's Notes on Shelley's Unfinished Poem "The Triumph of Life" (1887) there has been a negative critical lineage contending that Shelley's fragment is ultimately pessimistic, vying against those that assert its potential (if equally unprovable) positivity. Excitingly, Jarvis tests the broken middle of this fragment's approach to "life". Quite simply, "[w]e cannot be certain . . . that this is the poem in which Shelley at last accomplishes disenchantment." Rather, "the correct response to any such certainty is the simplest one: we just can't know that, because the poem isn't finished." It is intriguing that despite this impossibility of knowing, critics are drawn back, again and again, to this seductive disenchantment, but in doing so we are "getting right back on the Nepenthe ourselves," where we use "Shelley to help confirm that rubric of obligatory disidealizaition." I anticipate that this essay will inspire a new generation towards a revitalized reengagement with the "Triumph of Life."
With additional contributions from Pascale Guibert, Yves Abrioux, Angela Esterhammer, and Joel Faflak (among others) the collection adduces a vast and attractive reserve of insight. It would have been interesting to have probed further, however, what it is that poetic materiality, with its vast formal repertoire, may or may not achieve when compared with conventional philosophical statement. But as Shelley has it (and as the editors remind us): "yet a speechless child, / Verse murmured, and philosophy did strain / Her lidless eyes for thee." This collection offers a sharp look at their long tangled conversation. We have a lot of listening to do.